Master Campus Expansion Plan
The Hang Seng University of Hong Kong (HSUHK) (formerly known as Hang Management College and Hang Seng School of Commerce) has embarked on a long-term Master Campus Expansion Plan since 2010 by 3 phases: Phase I includes the S H Ho Academic Building, the Lee Shau Kee Complex, the Wei Lun Square, the Lee Quo Wei Academic Building and the Campus Entrance at Hang Shin Link; Phase II includes the HSUHK Jockey Club Residential Colleges. Construction of Phase I and Phase II have been completed in 2015 and in full operation. Commencement of construction for Phase III will be subject to availability of funds.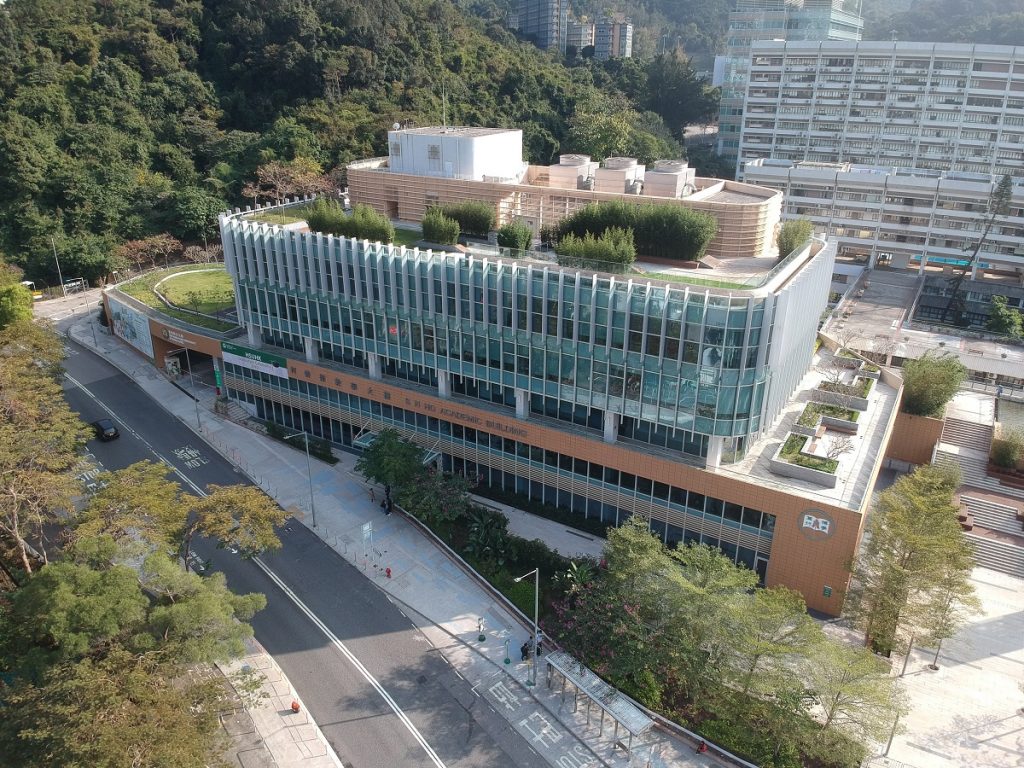 The S H Ho Academic Building was opened on 17 September 2012. The academic building has a HSUHK Library with Reference and Course Reserve Collections and Learning Commons on the lower floors, multi-purpose classrooms, Language Centres and a Decision Sciences Technology Laboratory on the intermediate floors, together with a top-niche Virtual Reality Centre – Virtual Reality and Big Data Analytics Laboratory, a Financial Trading Laboratory, and the Fung Yiu King Hall which is a conference hall with simultaneous interpretation facilities.

Construction of the Lee Shau Kee Complex was completed on 17 October 2013 and the Complex was opened for operation in phases from 4 November 2013. This indoor sports and amenities building has a six-lane indoor swimming pool, a canteen, a Chinese restaurant, a Sports Hall and offices for Student Union and storage/meeting venues for student organisations. The Sports Hall offers space for a five-a-side football ground, badminton and basketball courts. A fitness centre, a multi-purpose room, a dance studio and a music room for students' musical interest groups practice are also housed in this complex. In addition, there are areas designated for planting organic vegetables at the lower roof top coupled with the green roof top. The building is connected to the S H Ho Academic Building and Wei Lun Square by two link bridges at ground level across the existing nullah.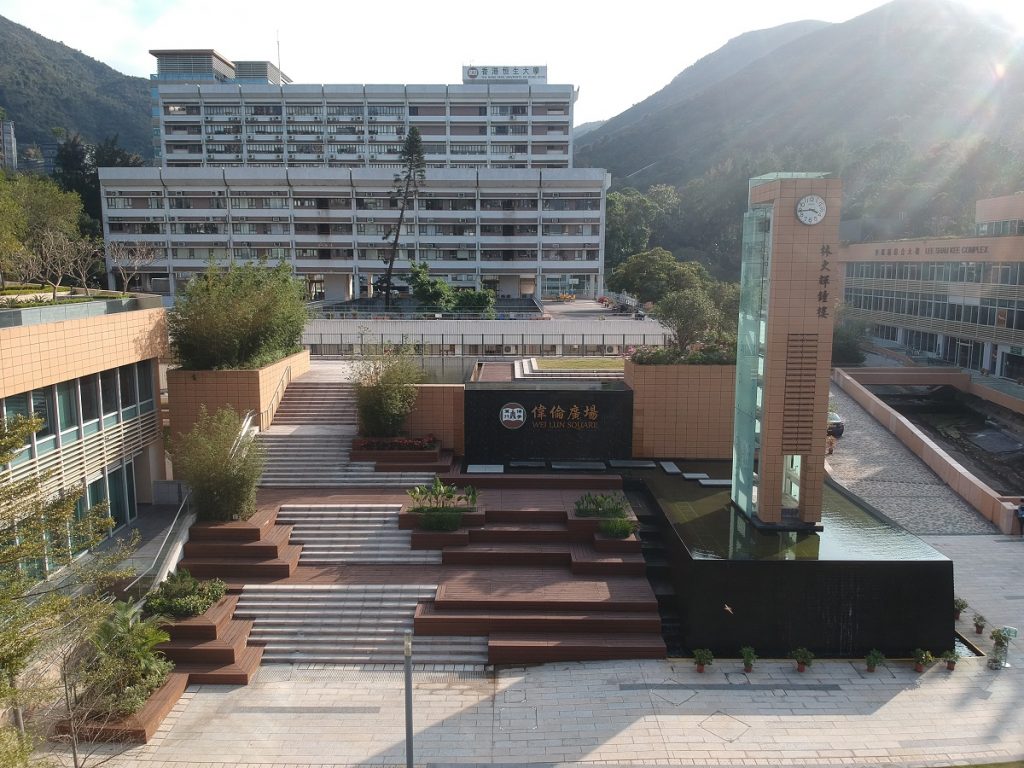 Wei Lun Square is an open plaza with a green courtyard, Lam Tai Fai Clock Tower, and water cascade, opened for use on 5 March 2014.
Lee Quo Wei Academic Building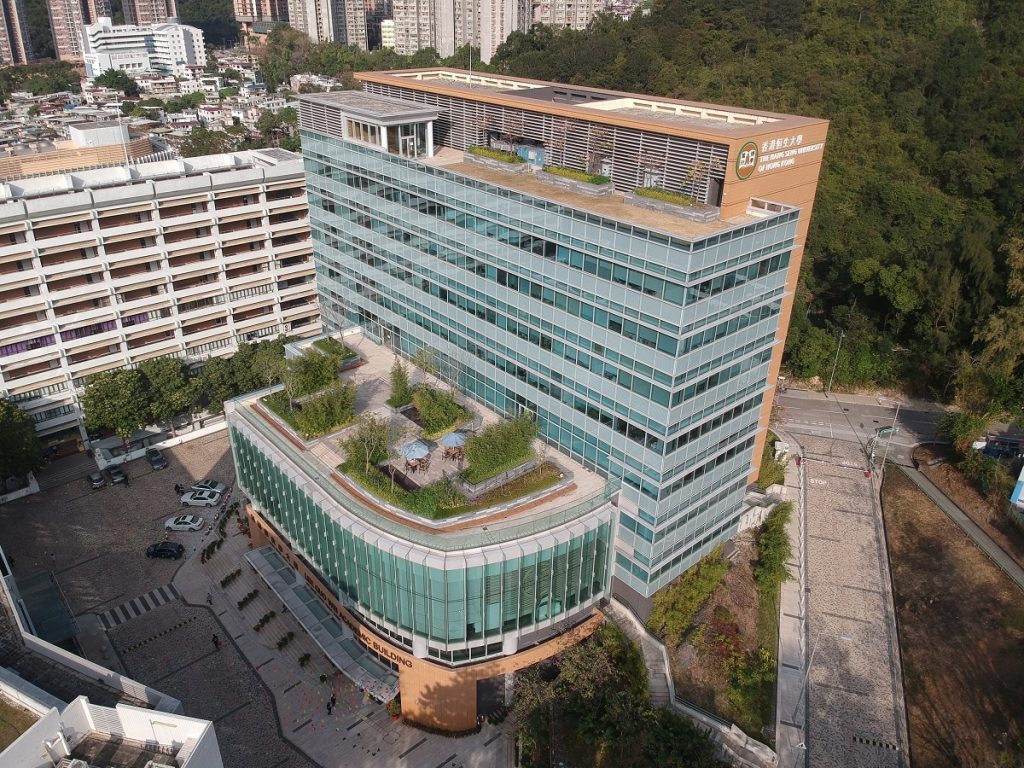 The Lee Quo Wei Academic Building was completed and opened on 2 September 2013. A state-of-the-art jewel box Auditorium with more than 400 seats and extendable facilities for international conferences, exhibitions and performances is located at the lower block of this eight-storey academic and administration twin building. The tower block consists of a variety of classrooms, a Radio Broadcast Training Centre and a Multi-media Training Centre, some academic and administration offices such as senior staff offices on the intermediate floors and a College Chamber on the top floor. This block is adjacent to the Academic and Administration Building (Block N) and forms the functioning core of the campus.
HSUHK Jockey Club Residential Colleges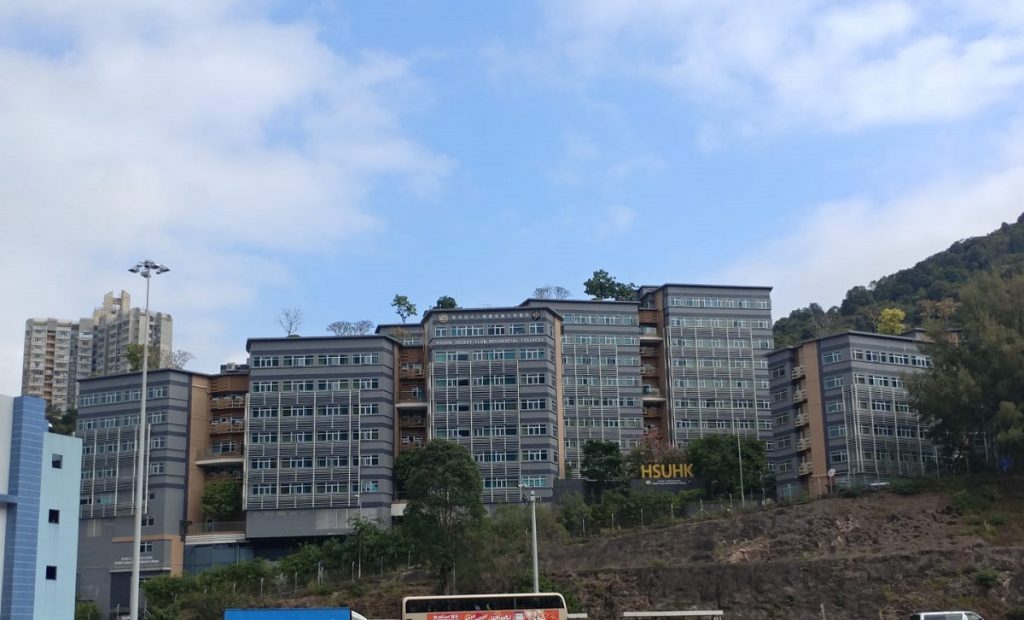 HSUHK is grateful for the Hong Kong Jockey Club Charities Trust for the donation of HK$200 million towards the construction cost of the HSUHK Jockey Club Residential Colleges, with about 1,200 students accommodated in these three blocks of residence halls with four colleges including Mosaic College, Wellness College, Amity College and Evergreen College. As part of the Master Campus Expansion Plan, the three blocks of residence halls adopt a model similar to "Residential Colleges (RC)" which combines living and learning for students to learn and to engage in self-improvement to develop interpersonal networks, and to nurture students a sense of commitment and self-discipline.
Future Campus Development will be subject to available project funding.